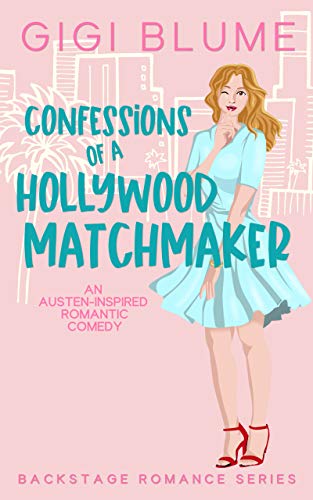 Get Your Free Novella!
Join Gigi Blume's rollicking band of romance enthusiasts and get weekly updates on new releases, bonus features, and recommended reading that won't make your grandmother blush. As a thank you gift, I'll send you a FREE copy of Confessions of a Hollywood Matchmaker to start your Gigi Blume library.
What can you expect from my weekly newsletter?
Bookish news in the Gigiverse
Weird musings
Gigi's reading corner
Deals and freebies
Bonus newsletter exclusives
Questionable inspirational quotes
General tomfoolery
A little about Confessions of a Hollywood Matchmaker:
Hollywood's sweetheart Emma Woods is perfectly content without a boyfriend, thank you very much. But what's a girl to do when she's a romantic at heart?
Play Cupid, of course!
She'll do whatever it takes to set her makeup artist up on a date with the studio's gorgeous set designer. Easy peasy, lemon squeezy.
But when her swoony BFF Jaxson Knightly disapproves, her matchmaking scheme comes at a higher price than she'd bargained for. He may be the nicest man in showbiz, but he's about to get downright icy if Emma can't prove her antics won't end in disaster. Again.
How can she win other people's happily-ever-after without losing the friendship of the one man that matters most?
Confessions of a Hollywood Matchmaker is a contemporary Austen-Inspired romantic comedy Novella and a prequel to the Backstage Romance Book Series.